[Top/Intro.][Contacts] [Documents][Where] [Calendar]


04/09/03 -- New version of Map and list of restaurants added to the Documents download section - Click.
Intro. and General Information
The site is to provide information regarding the 2003 convention/contest of the the Northern Division of the Mid-Atlantic District of S.P.E.B.S.Q.S.A. It is expected that information will change and develop over time. Changes to site to keep up are also expected to be frequent.
General: The convention is scheduled for Friday, May 2 and Saturday, May 3, 2003.
The Friday night, quartet contest is scheduled to take place in the main ballroom of the Bridgewater Marriott located across from the Bridgewater Commons Mall and just off of Route 22 near the insections of Rt. 202/206 and 287. Mic testers for the event will be Good Times.
The Saturday activities will take place a few miles away at the Bridgewater-Raritan Middle School ( formerly known as Bridgewater-Raritan High School East ).
Advance registration for the convention is $25 for access to all events. ( Advance order form ) This all events registration is required for all competitors. Registrations for individual events is expected to also be available for $15 per event. For further information contact: Bill Vander Haar, 973-476-3760, egoshado@optonline.net
There is a special rate of $84.00/night at the Bridgewater Marriott - 908-541-5000.
[Top/Intro.][Contacts] [Documents][Where] [Calendar]
---
Contacts
[Top/Intro.][Contacts] [Documents][Where] [Calendar]
---
Downloadable Documents
[Top/Intro.][Contacts] [Documents][Where] [Calendar]
---
Where are things ?
Host Hotel
Marriott Bridgewater,
700 Commons Way,
Bridgewater, NJ 08807

A close up map to the Marriott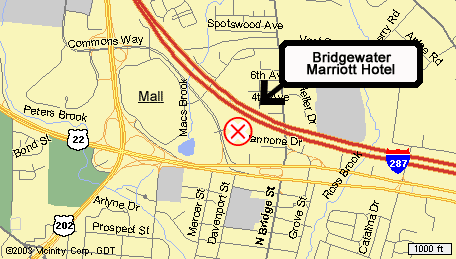 Another version pulled back some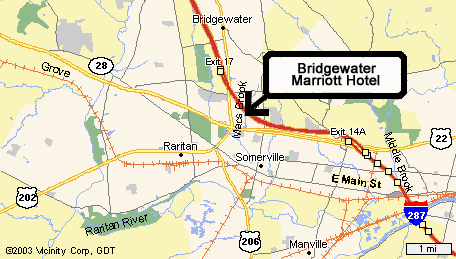 The Area
Map of the larger area with the venues marked, etc. This should show more points of interest as we get closer to the event. This map was meant for printing landscape on 8 and a half by 11 inch paper. It's 1890 by 1440 and 585k.

[Top/Intro.][Contacts] [Documents][Where] [Calendar]
---
CALENDAR
Date
Time
Event
Fri., April 4
Program Advertisements Deadline
Thurs., April 3
Competitor sign up dead line
Mon., April 7
7:30 p.m.
Appearance order draw at the SomerTones rehearsal ( Somerville, NJ )
Fri., April 11
Program Patron Ad Deadline
Fri., April 25
Registrations purchased in advance with payment received by Friday, April 25 will ensure a reserved seat at each event.
?????
?????
2nd Mailing to Registrants ?
Fri., May 2
07:00 p.m.
Quartet Competition, Bridgewater Marriott Hotel
Mic testers: Good Times
Sat., May 3
10:30 a.m.
Chorus Competition, Bridgewater-Raritan Middle School
Sat., May 3
07:30 p.m.
Jamboree, Bridgewater-Raritan Middle School
Sat., May 3
~10:00 p.m.
Afterglows, etc. at Bridgewater Marriott Hotel
[Top/Intro.][Contacts] [Documents][Where] [Calendar]
---